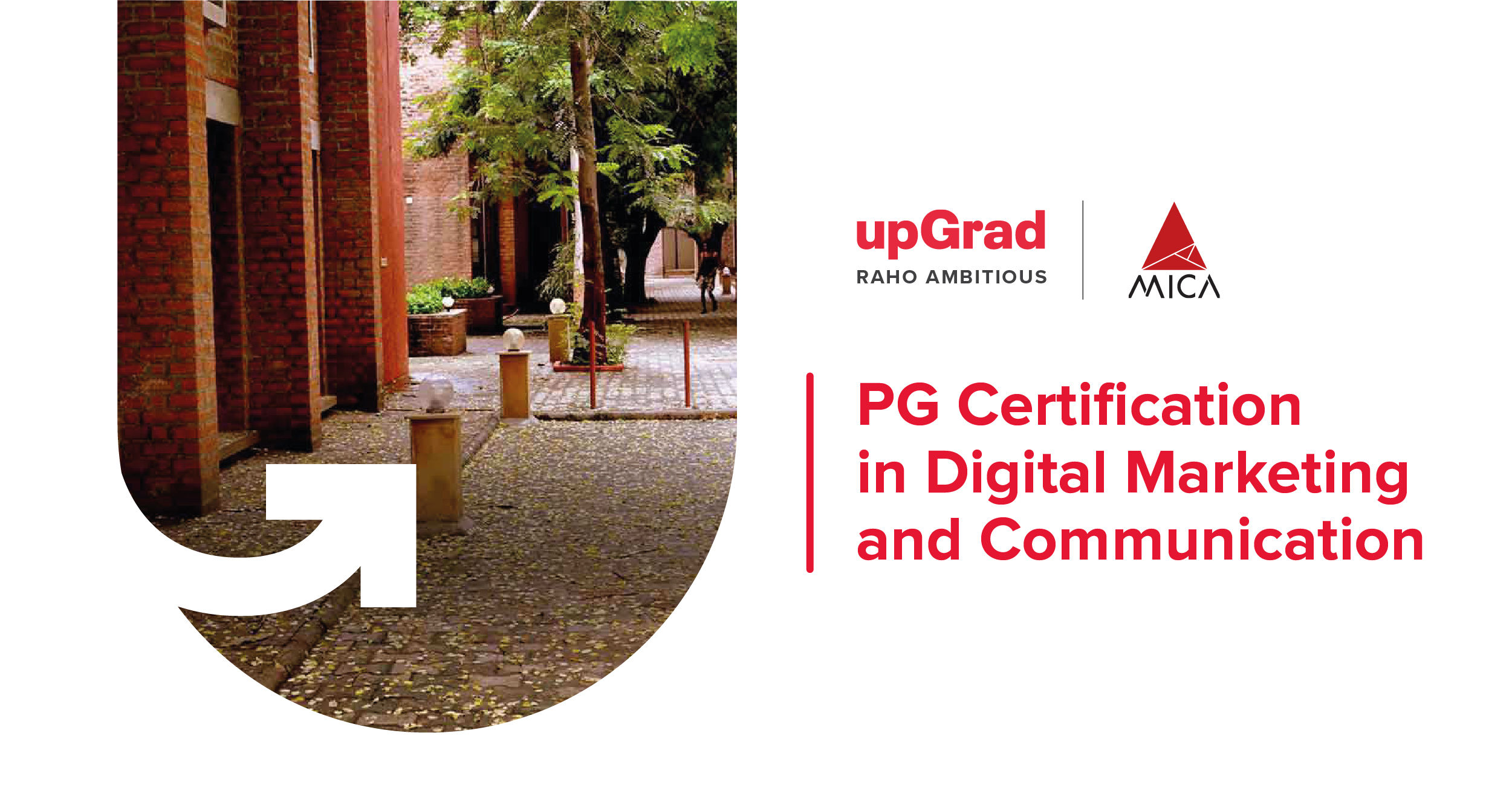 Top Skills You Will learn

SEO, SEM, Social Media and Content Marketing, Branding, Marketing Analytics

Job Opportunities

Digital Marketing Manager, SEM Manager, SEO Specialist, Social Media and Content Manager

Who Is This Program For?

Freshers, Traditional Marketers, Entrepreneurs, Brand and Communication Managers, Sales Professionals

Minimum Eligibility

Bachelor's or Equivalent Degree
Syllabus
Best-in-class content by leading faculty and industry leaders in the form of videos, cases and projects
Digital Marketing Platforms and Tools
Post Graduate Certification from MICA and upGrad
Complete all the modules successfully and receive a Post Graduate Certificate and Alumni Status. Join a vibrant digital marketing community and become part of one of India's top marketing universities.
PG Certificate from MICA
Join MICA alumni network
Easily shareable across LinkedIn, Naukri, etc.
Valedictorian ceremony at the MICA campus
Click to Zoom
Instructors
Learn from India's top Digital Marketing faculty and industry leaders
Falguni Vasavada-Oza
Professor
She completed her PhD in Advertising Management and has spent almost 20 years teaching Marketing, Advertising and IMC-related subjects at MICA.
Sakhee Dheer
Digital Marketing and Analytics
Sakhee Dheer leads the Digital Marketing function and analytics for Facebook's clients in the APAC region, as she previously did for Microsoft APAC.
Vishal Jacob
Principal Consultant
Vishal is an MIT Alumnus with 15+ years of experience in digital media and marketing. He is currently the Principle Consultant to the CTO at GroupM.
Jaideep Prabhu
Professor
Previously the Director of Research at Imperial College of London, Jaideep is now a professor of Marketing at CJBS.
Karan Sarin
CMO
As Razorpay's CMO, Karan led brand-building, strategic events and communications. He was also the Head of Marketing at OnePlus.
Dhaval Doshi
Founder
Dhaval is a serial entrepreneur with 11 years of wide-ranging experience in marketing, advertising and e-commerce.
Siddharth Deshmukh
Professor
He graduated as a "first MICAn" in 1996 and returned to his alma mater as a faculty. He co-created MICA's Digital Communication Management (DCM) specialisation.
Rajneesh Krishna
Professor
Dr Krishna is the Associate Dean and Professor of Strategic Marketing at MICA. Armed with a PhD from IIT Bombay, he joined MICA as an Associate Professor.
Sujoy Golan
Vice President and Head of Marketing
He is an alumnus of VIT and IIM Kozhikode. With over 10 years of experience, he has worked at high-growth mobile, e-commerce and ad-tech companies.
Anita Basalingappa
Professor
Dr Anita Basalingappa is a professor in Marketing and Chairperson of Online Programs at MICA.
Michael Leander
CEO
An accomplished international marketing speaker, Michael Leander has spoken across 40 countries on his areas of expertise.
Jay Trivedi
Professor
Dr Trivedi has a decade-long corporate experience with India's leading media companies, such as HT Media, Radio One and The Indian Express.
Apurva Chamaria
Chief Revenue Officer
Apurva Chamaria headed corporate marketing at HCL Tech for 4+ years before joining the SaaS provider Rategain as its CRO.
Kavita Jhunjhunwala
Founder and Digital Lead
Kavita co-founded Avocado Digital, which offers strategy consulting services and marketing solutions for digital brands and e-commerce.
180

Hours of Content

15

Case Study and Projects

15

Live Sessions

10

Tools and Platforms
Branding

Social Media and Content Marketing

Marketing Analytics

Marketing Communications – PR
Topics Covered

Project

Topics Covered

Tools Covered

Project

Topics Covered

Tools Covered

Project

Topics Covered

Tools Covered

Project
Industry Projects and Case Studies
Learn through real-life industry projects sponsored by top companies across industries
Run live marketing campaigns
Leverage Proof-of-Work during interviews
Get mentored by industry experts
The upGrad Advantage
Strong hand-holding with dedicated support to help you master Digital Marketing
Industry Mentors

Receive unparalleled guidance from industry mentors, teaching assistants and graders
Receive one-on-one feedback on submissions and personalised feedback on improvement

Student Success Mentors

A dedicated Success Mentors is allocated to each student so as to ensure consistent progress
Success Mentors are your single points of contact for all your non-academic queries

Q&A Forum

Timely doubt resolution by industry experts and peers
100% expert verified responses to ensure quality learning

Expert Feedback

Personalised expert feedback on assignments and projects
Regular live sessions by experts to clarify concept-related doubts

upGrad BaseCamp

Fun-packed, informative and career building workshops, including sessions by industry professionals and professors
Group activities with your peers and alumni

Industry Networking

Live sessions by experts on various industry topics
One-on-one discussion and feedback sessions with industry mentors
Our Students Work at
Rahul Madana
Himanshu Choudhary
Vikesh Sharma
Karan Kher
Chandan Kumar
Saumya Sadana
Joshua Vincent Toppo
Santu Dev
Over 100 Careers transformed
Learn more about successful career transitions in the
Career Transition Handbook
upGrad and MICA not only helped shape my career in Digital Marketing but also helped me make a smooth career transition from Public Relations to Content Marketing and Digital Communications with a hike over 100%. The animations that were used can be improved further to enhance the learning experience.
Account Executive
Marketing Lead – Content and Communications
It really helped me to get my first job in the programmatic marketing field. I am thankful to MICA and upGrad for helping me to start my career. I am able to optimise my campaigns well. Overall, I love this course. Most importantly, it helped me to kick-start my career.
Intern
Digital Marketing Associate
The experience was great as the course modules were designed to match the current market requirements. The knowledge and deep insights from the course helped me gain confidence and become more approachable during interviews. This is how I bagged a Senior Manager Role in a reputed company.
Account Manager
Senior Digital Marketing Manager
The program has been a great value add. The way the program is structured is wonderful and it gives non-marketers like me a complete hand-holding experience to learn and transition into Digital Marketing.
Fresher
Content Marketing Executive
The mock interviews at upGrad was very helpful since it was catered to the kind of role I was looking to get into. The feedback was extremely useful and also helped me gain confidence before the main interview.
Head-Digital Marketing
Digital Consultant
Program Fee
You can choose one or more than one specialisation based on your interest.
Branding and Communication
Social Media and Content Marketing
Marketing Analytics
Marketing Communications – Public Relations
₹ 87,750 + Taxes
No Cost EMI available
View Plans
Total Duration
6.5 Months
Our Hiring Partners
Opening the doors to the best in the industry
Career Transition Handbook
Learn more about successful career transitions from PG Certification in Digital Marketing & Communication
Download Now
Student Reviews
Frequently Asked Questions
Course CurriculumCareer AssistancePayment

Source